---
"If you want to be successful, find someone who has achieved the results you want
and copy what they do and you'll achieve the same results."
---
"Calm, cool and collected. Kelly Fry is a power house real estate investor, confident in her past decisions and with quite a story to share. She's everything an aspiring, real estate investor (such as myself) would like to be."
Carolina - Vision International Properties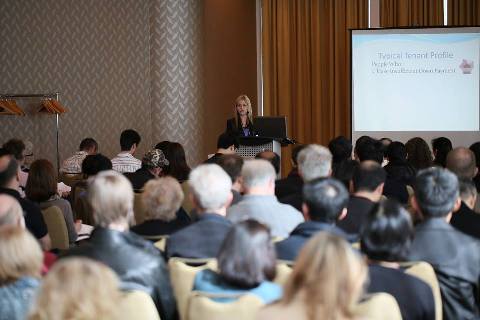 Kelly has Lectured On Real Estate Investing for Rich Dad Education, The Real
Estate Action Group, Tigrent Learning and other Real Estate Investment Groups.


As the "Real Estate Investing from a Woman's Perspective" event draws nearer, I had the chance to meet and talk with Kelly, the guest speaker for the event. Kelly has been very successful with her real estate investments and has a very forward view on why woman should invest in real estate as soon as they can.
What made you want to invest in real estate? And, how long have you been doing it now?
I started very slowly in the year 2000. I saw an infomercial online on "real estate with no money down". That drew me to the courses and once I was exposed to the information there was no turning back. It was the most logical investment I could see for the future.
Where did you end up investing?
Primarily the lower mainland of Vancouver, Edmonton, Calgary, Red Deer and Winnipeg.
I suppose you were leveraging the Alberta oil boom?
Yes.
How many properties have you owned at one point? Did you invest by yourself or with others?
At my peak I had 48 properties. If I were to quantify that into doors then it would probably be close to double that, because many of those were duplexes, houses and such. I did a lot of them on my own but then I started to bring on partners. I did a combination of vendor take backs, leveraged as much as I could.
What were the main things you looked for in a property investment?
Cash flow and strong economic fundamentals! As I became more knowledgeable in what REIN teaches, then I focused on job growth, income levels and vacancy rates, but also the quality of the real estate too. Real Estate is not like other things where you're looking for the cheapest deal. You're looking for the quality of the location, the resale, and the ability to attract good tenants.
What would you say are some of the challenges to investing for women?
I wouldn't make it gender specific. I would say the challenges for any investor is good property management; it's a very difficult area that can make or break you. Also, finding good quality tenants and building the right power team. It's taken me years to get the right lawyers, accountants, realtors, insurance people and appraisers. So if you can tap into people who have that in place then that makes a huge difference.
Since you've been so successful, do you have any predictions for the next hot spot for real estate investing?
Without a doubt, Alberta's fundamentals speak for themselves. It doesn't take a genius to see when you have a thousand people moving there a month. On the last two rentals I've filled in the last month, I've gotten 50 calls per property and that's after hiking the rent $300! We're definitely on the verge of another boom in Alberta for sure. There so much pressure on rentals that will push prices in the near future. All of Western Canada is good.
What would you say are some common misconceptions about real estate investing?
I think people get really bogged down and worried about tenants not paying rent or bad tenants damaging a property. I think a lot of those risks can be mitigated quite easily with proper screening, and at the end of the day, as long as you remember that you control the assets and you can rectify the situation and know the law protects you as a land lord, there really isn't the risk that people think. In fact, I think it's riskier not to invest in real estate than it is to invest in something! It's a hard asset and there's always a demand for it and they're not making any more land.
Why did you decide to join REIN? What sets them apart?
I've been a REIN member for quite awhile now, 6 years now. From when it was quite a smaller group than what it is today. At the time I had become a full time real estate investor, I shut down my other business. I felt that in order to be a serious investor I needed to be where investors were. The fundamental research at REIN is second to none. When you've got people paying a monthly fee like REIN charges you weed out the less serious people. It's a pretty serious crowd and quality information.
You had your own business before? And you stopped that?
Yes I did. I started buying real estate on the side and I had to shut the business down. Ultimately real estate kept me from going under. I was $20,000 in debt and the real estate I bought got me out of debt.
Is there any advice you can give women out there who are thinking of making the leap? Anything you wish you would have known earlier?
I wish I had known how to invest in real estate. I would have started at 18, I would have stayed at home and I would have started buying duplexes. I would have used my buying power to start leveraging my credit and building one property at a time.
You don't need money to buy real estate; you just need to know how to buy it! You can even buy real estate with zero down as long as you have good credit; it's just at a higher interest rate.
At the event, what is the main thing you want attendees to take away?
Part of my presentation will teach them how to analyze the numbers; I am a numbers person. I felt that in many of the trainings I've taken over the years, they don't teach you the how to. So I want to give them some value and show them what to look for when they're running their numbers. Then they know what to look for in a good property and give them the confidence. Unfortunately I am one of the few realtors now that really understands investing. Realtors mean well but they don't know what makes a good property for investors so I want them to be able to distinguish when they're looking at properties what the cash flow is all about.
After the interview was over, Kelly and I continued to talk. When I asked if Kelly had heard of the new HGTV show, "Buy Herself", she confided that it was no surprise to her that women now accounted for 25% of real estate sales. She elaborated with how many of her big lenders (all of which were men) were actually very supportive to see such an ambitious lady taking charge of her future.
"Women need to take care of themselves", was the biggest thing Kelly wanted to get across. She said it breaks her heart when she sees able women bypass the chance to go in to the market by themselves, especially when the can.
Kelly proceeded to tell me the story of a former client who was planning to buy but was caught between that and the chance to live with her boyfriend. "It's okay to live with the boyfriend but buy a place and rent it out, because you never know what will happen with the relationship in the end!" As a woman in my early twenties, the scenario was all too familiar and the message resonated loud and clear. This is advice my parents have been bestowing on me for the past couple of years.
As I thanked Kelly for the advice and taking the time to talk to me, I declared I'd look into buying my own place when the time was right. To which Kelly replied, "it's never a bad time".
Kelly speaks at the Women's Investing event on May 23 at 6:30pm. Come out if you're curious as to how you can secure financial security for the future. She may just convince you to take the leap!

---
What better way to build your real estate wealth than to work and learn from a successful real estate investor like Kelly Fry. After acquiring three properties, she realized that having a mentor and additional training were going to be a necessity to move forward.
From that point where she had only 3 properties she built up a portfolio of almost 50 properties in the next 5 years. By using a variety of strategies including rehabbing, flipping, lease optioning, wholesaling, joint venturing and buying to hold, she built up a solid income, net worth and cash flow. Her experience includes strata management as a president and treasurer and property management. Kelly strives to help other people achieve their dreams through real estate investing.